Election and Political Mail are part of a long tradition in American political history.
Image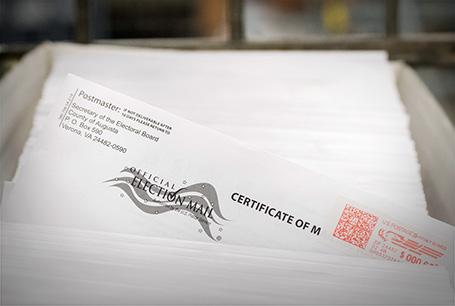 Election Mail

 is any item mailed to or from authorized election officials that enables citizens to participate in the voting process. It includes items such as ballots, voter registration cards, and absentee applications that an authorized election official creates for voters. 

Political Mail 

is any mailpiece sent for political campaign purposes by a registered candidate, a campaign committee, or a committee of a political party to promote candidates, referendums, or campaigns. Material mailed by a political action committee or organization engaging in issues advocacy or voter mobilization is also considered political mail.
During the COVID-19 pandemic, the number of Americans voting by mail rather than going to polls increased significantly. As we detailed in our June 2021 white paper, Vote by Mail and the Postal Service: A Primer, in the November 2020 election, 46 percent of votes were cast by mail compared to only 21 percent in the 2016 election.
Accordingly, the OIG expanded its monitoring and oversight of the Postal Service's ability to timely process and deliver Election Mail starting with the 2020 election. We conducted site visits to observe and monitor operations at postal facilities around the country as described in our report Service Performance of Election and Political Mail During the November 2020 General Election.
The OIG has continued this work for the 2022 mid-term election. In the runup to this election, we audited the Postal Service's readiness by examining Postal Service operations during the primaries. The Postal Service processed nearly 10 million more Election Mail pieces from April through June 2022 than in 2020. In our audit, Election Mail Readiness for the 2022 Mid-Term Elections, we found that the Postal Service was generally ready to process Election Mail on time during the mid-term elections, although we did find some problems and recommend improvements.
From October 2022 through election day and the Georgia run-off election, we made nearly 900 visits to observe how the Postal Service handled Election Mail at delivery units and mail processing facilities. Our audit report, Service Performance of Election Mail for the 2022 Mid-Term Election, found that overall the Postal Service did a good job prioritizing Election Mail by taking special measures to ensure Election Mail arrived on time. Because election offices do not always send ballots out to voters the same way, not all ballots can be identified and measured. The Postal Service, however, delivered 97.3 percent of outbound ballots that could be measured on time — an improvement over the 96.6 percent delivered on time in the 2020 election. There was a financial cost to the extra measures, though including lost revenue from providing faster service than election offices paid for. We recommended the Postal Service analyze these costs and explore opportunities for compensation.