The Office of Inspector General's guidance on requesting information under the Freedom of Information Act.
The Freedom of Information Act (FOIA), Title 5 of the United States Code, section 552, is a disclosure statute which gives you the right to request access to federal agency records or information. All U.S. government agencies are required to disclose agency records to the public unless the records are protected by one or more of the FOIA's nine exemptions or three exclusions.
FOIA is about the release of records we have in our possession and does not require agencies to do research, analyze data, answer written questions, or create records in response to a request.
Image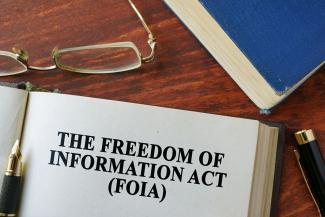 I need to file a FOIA request
Accident reports involving USPS vehicles, Address History/Current Address, USPS Customer Service Requests, USPS Employment or Personnel records, USPS Policies and Procedures

Postal Service facility video taken in lobbies, building perimeter, and parking lots

For records from a Hotline complaint or Investigation

OIG Audits, Contracts, and White Papers
How to Make a FOIA Request
A request for agency records made under the FOIA must be in writing and identified as a "Freedom of Information Act" request. The Act requires a requester to provide a reasonable description of the records sought. A reasonable description allows agency employees familiar with the subject matter to easily locate responsive records with a reasonable amount of effort. Requests that are too broad will delay our ability to satisfy your right of access while minimizing any processing costs to you.
Where to Make a FOIA Request
Have you checked out our publicly available Document Library (Reports) where we post in full or with minor redactions many of the audit reports and white papers we issue? Documents can be located by searching under various criteria such as category, title, report number, or year published. For all other records, to ensure the fastest response time, please submit your FOIA request online using the appropriate link above. Requests, and any attachments, may also be submitted via U.S. Mail to:
USPS Office of Inspector General
1735 N. Lynn Street
Arlington, VA 22209-2020
Attention: FOIA Officer
The OIG will begin processing your request upon receipt by the FOIA Officer. The FOIA provides agencies 20 working days from receipt to respond to requesters. This office routinely meets this requirement.
Fees
A requester may be charged a fee for some or all of the OIG's direct costs. Fees are based on the amount of time it takes to process a request, the number of pages provided, and a requester's fee category (commercial, educational, news media, or other).
Commercial requesters are charged fees for search time, review time, and duplication costs.
Educational and news media requesters are charged for duplication costs in excess of 100 pages.
Other requesters are charged fees for search time in excess of two hours and duplication costs in excess of 100 pages.
Duplication costs are 15 cents per page. Search time and review time is $42 per hour. Direct costs are assessed for information that must be retrieved by computer. If the assessable cost is $25.00 or less, we do not charge a fee. If the fee exceeds $25, and you did not indicate willingness to accept all costs, the OIG will notify you of the estimated fee and ask for your written agreement to accept liability. If the estimated fee is over $250, our regulations allow us to collect an amount up to the full estimated cost before processing the request.
Appeals
Requesters have the right to appeal an agency's determination to withhold or redact information contained in agency documents that are responsive to a FOIA request. However, neither the FOIA nor the Inspector General Act provides FOIA requesters the right to appeal an OIG's decision to open, not open, close, or not close any audit, investigation, or other inquiry.
Appeals must be sent in writing to:
USPS Office of Inspector General
1735 N. Lynn Street
Arlington, VA 22209-2020
Attention: FOIA Appeals Officer
An appeal should include a copy of the initial request, a copy of the letter denying the request, and a statement explaining why you disagree with our decision. You should write "Freedom of Information Act Appeal" on the front of the envelope and on the first page of the appeal letter.
Judicial Review
If your appeal has been decided and you still believe we have not handled your FOIA request in accordance with the law, you may seek judicial review. Judicial review is a litigation process in which you challenge our action in a lawsuit filed in Federal Court. You may file the suit in a Federal District Court in any of the following places: (1) where you reside; (2) where you have your principal place of business; (3) in the District of Columbia; or (4) where the records are located.