Image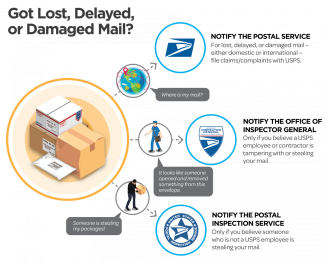 Who Do I Contact?
With three agencies that have "U.S. Postal Service" in their names, and each one having different responsibilities and jurisdictions, it's no wonder people sometimes aren't sure where to turn for help with lost, delayed, or damaged mail.
With the Postal Service solely responsible for mail delivery, they are almost always the one to contact. But some circumstances warrant notifying us here at the OIG, or the U.S. Postal Inspection Service. This infographic illustrates the options, with links and contact information below.
Office of Inspector General Contacts
Postal/Inspection Service Contacts
U.S. Postal Inspection Service (USPIS)

Are you a victim or have you witnessed a mail-related crime committed by a non-postal employee? Alert Postal Inspectors to the problem and prevent others from being victimized.