Changing market conditions have created a challenging environment for the Postal Service and other postal and logistics operators, specifically in handling the increasing share of packages in the mail mix. Established operators are also facing increased competition from local and regional players. 

Operators are at various stages of responding to declining mail revenue by investing in processing capacity to grow their package business, adjust to volatile changes in volume, and better cover the cost of their delivery network. 

The USPS OIG identified best practices from across the industry to promote process efficiency in planning, implementing, and monitoring large network investments. These practices involve people, processes, and technology.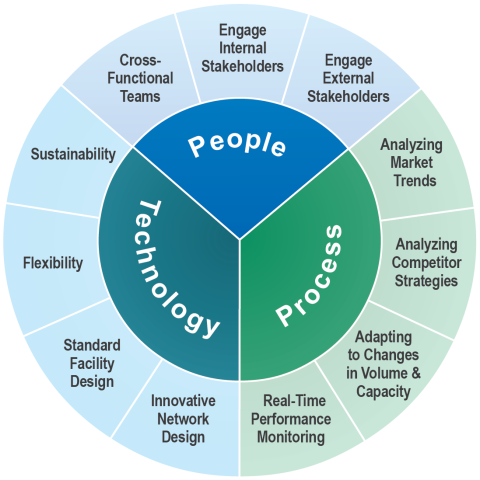 Under its strategic 10-year Delivering for America plan announced in March 2021, the U.S. Postal Service is modernizing its network to increase capacity and streamline processing and delivery. It will be making the largest investment in its processing network since the Postal Service was established, spending an estimated $20 billion over 10 years. USPS, however, faces an increasingly challenging environment for making long-term strategic investments in its processing infrastructure. 
Slowing economic growth, record levels of inflation, and labor shortages are affecting the logistics industry, making it more difficult for postal operators to predict and adjust to declining mail and increasing package volumes. Additionally, supply chain transformations are increasing competition by shifting package processing and delivery closer to consumers, thereby creating new business models that do not rely on the infrastructure of established or incumbent operators. 
The OIG identified 10 industry best practices for managing major investments organized across three interconnected categories: people, process, and technology. In terms of the role of people, best practices include using internal cross-functional teams and engaging with both internal and external stakeholders. Best practices for improving processes include analyzing market trends and competitor strategies, using data to adapt to changes in volume and capacity, and real-time monitoring of investment performance. Finally, best practices that leverage technology include implementing innovative network designs, standardizing facility designs, adopting flexible technology, and promoting environmentally sustainable technology. 
Reviewing the best practices of other postal operators and domestic competitors can provide additional opportunities for the Postal Service to improve its internal processes for managing large network investments. Such a review can help USPS remain competitive as it plans, implements, and evaluates transformative investments made in its processing network.
---
Kevin Mersol-Barg, Aaron Anfinson, Abigail Paterson, and Paola Piscioneri contributed to this report.