The Office of Inspector General is tasked with ensuring efficiency, accountability, and integrity in the U.S. Postal Service. We also have the distinct mission of helping to maintain confidence in the mail and postal system, as well as to improve the Postal Service's bottom line. We use audits and investigations to help protect the integrity of the Postal Service. Our Semiannual Report to Congress presents a snapshot of the work we did to fulfill our mission for the six-month period ending September 30, 2020. Our dynamic report format provides readers with easy access to facts and information, as well as succinct summaries of the work by area. Links are provided to the full reports featured in this report, as well as to the appendices.
A MESSAGE FROM THE INSPECTOR GENERAL
During the past six months, we have welcomed a new postmaster general and continued to face the challenge of meeting our mission during a pandemic. While we have successfully found technological alternatives that allow us to continue a good portion of our work at home, we also have dedicated auditors and agents working in the field as needed, to support our mission.
The Postal Service has faced challenges as well, keeping its employees safe while continuing to provide the American public with six-day-a-week mail delivery. In addition, in response to recent operational changes and dips in mail service, concerns have been raised about the Postal Service's ability to provide timely mail delivery to all areas of the country. This is especially important when it comes to election and political mail, as the pandemic has increased the need for voting by mail to be a safe and viable voting alternative.
Given the importance of election mail, three projects in this report cover the Postal Service's ability to handle election mail, and in particular, the 2020 general election. We found overall that the Postal Service made progress in preparing for the 2020 general election; however, concerns existed surrounding integrating stakeholder processes with Postal Service processes to help ensure the timely delivery of election and political mail. We also found that the Postal Service needed to take additional steps to ensure the safe and timely delivery of international election mail, including military and diplomatic mail.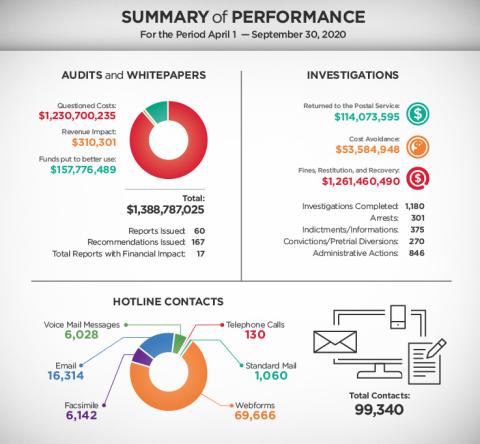 In addition, during this period we began our look at the Postal Service's operations, including its recent operational changes. We also looked at issues the Postal Service has been facing for years, such as inefficiencies in the processing network that, over the years, have led to billions of dollars of extra overtime and transportation costs. And other reports focused on specific areas of concern or opportunities including the Postal Service's delivery vehicle acquisition strategy, the management of the mail recovery centers, and the Postal Service's use of information technology.
While the use of the mail system to ship illicit narcotics continues to demand our attention in our investigations, our agents were also focused on investigating numerous allegations involving elections and political mail. For example, in April, our agents, along with the West Virginia Attorney General's Office, successfully investigated a contract carrier who had tampered with several requests for ballots. During the past six months, our agents have also worked on a host of other issues including mail theft, financial fraud, health care provider fraud, and contract fraud.
This report, submitted pursuant to the Inspector General Act, outlines our work and activities for the six-month period ending September 30, 2020. During this period, we issued 60 audit reports, management advisories and white papers, and the Postal Service accepted 95 percent of our recommendations. We completed 1,180 investigations that led to 301 arrests and more than $1.2 billion in fines, restitutions and recoveries, more than $114 million of which was turned over to the Postal Service.
I look forward to working with stakeholders to address the challenges ahead and maintain our focus amid an ongoing pandemic. As we see how the Postal Service continues to evolve in response to its financial challenges, I am confident that the OIG will continue to play a key role in ensuring the integrity and accountability of America's Postal Service, its revenues and assets, and its employees.