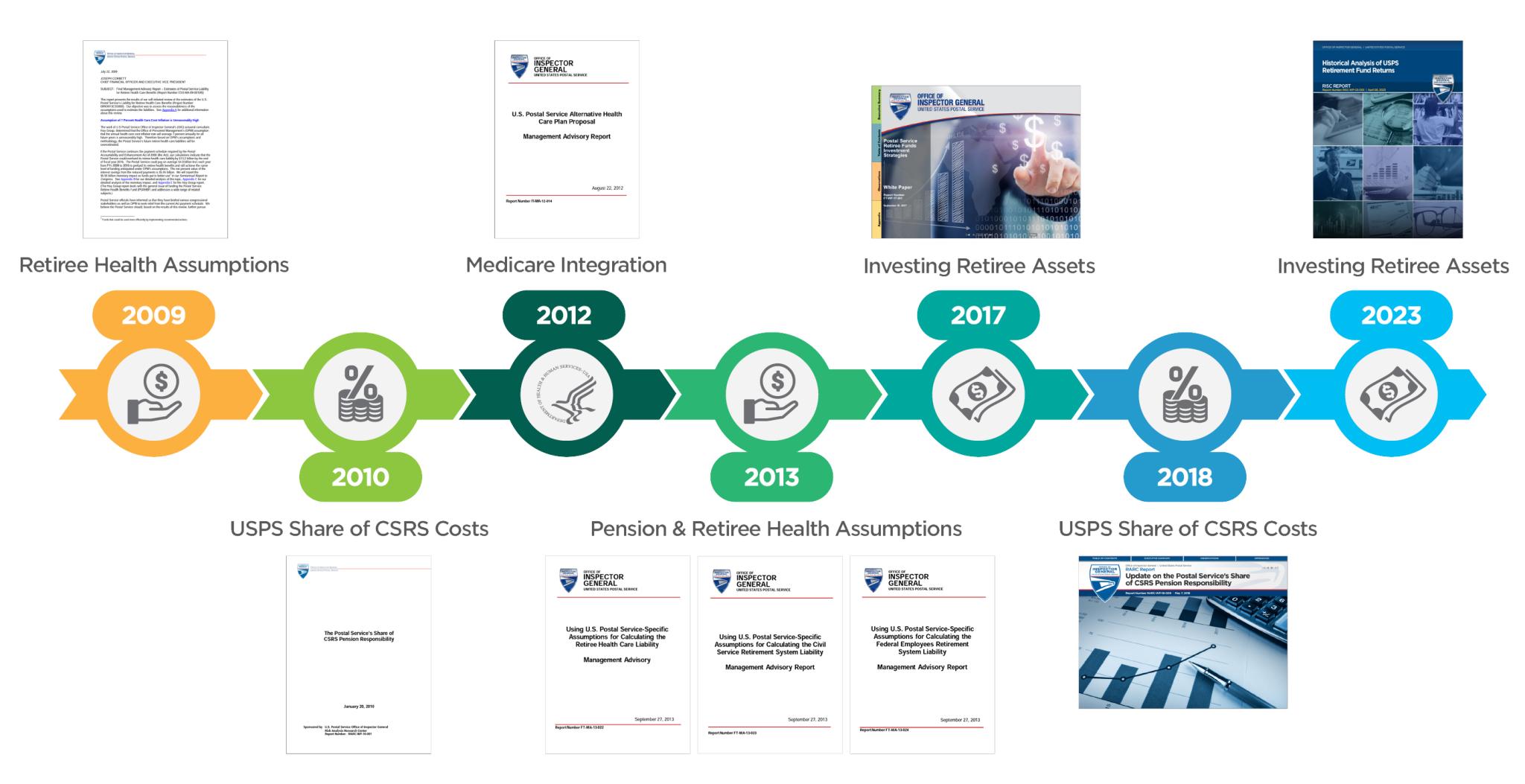 Since 2009, the OIG has a done substantial amount of work in the area of employee pension and retiree health liabilities. This Focus On provides an overview of that work.
AREAS of WORK
---
Retiree Health Benefit Assumptions (2009, 2013)
In 2009, we found that the 7% health care inflation assumption used in estimating the retiree health liability was higher than the average rates used in the private sector and non-federal public sector. Later, in 2013, we recommended using postal-specific assumptions when calculating retiree health liability to reflect more accurately differences between postal and federal workers and to align with future benefit payments. The change would result in a $2.3 billion increase in the liability as of 2012.
Outcome: The Office of Personnel Management (OPM) adopted a graded trend rate for health care inflation in response to concerns. The Postal Service Reform Act (PSRA) of 2022 created a new, separate Postal Service Health Benefits program. This program will include only postal employees and retirees and their eligible family members, so assumptions will reflect their characteristics.
Estimates of Postal Service Liability for Retiree Health Care Benefits
Using U.S. Postal Service-Specific Assumptions for Calculating the Retiree Health Care Liability
---
USPS Share of CSRS Costs (2010, 2018)
Our 2010 white paper and follow-up report found that the way Civil Service Retirement System (CSRS) pension costs for Post Office Department service were allocated between the Postal Service and the federal government was unfair. Splitting past costs by years of service would increase the CSRS fund by $75 billion. In our 2018 update, this savings grew to up to $111 billion depending on the alternative allocation method chosen.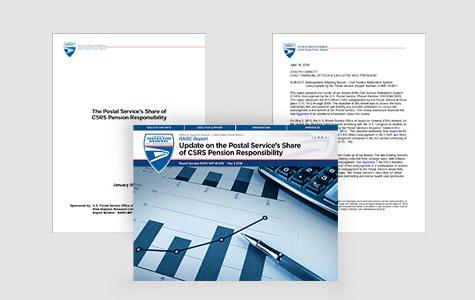 Outcome: A contractor for the Postal Regulatory Commission, Segal, agreed the allocation method did not reflect current financial practice.
USPS has said it is working with the Administration to try to make a change.
The Postal Service's Share of CSRS Pension Responsibility
Civil Service Retirement System Overpayment by the Postal Service
Update on the Postal Service's Share of CSRS Pension Responsibility
---
Medicare Integration (2012)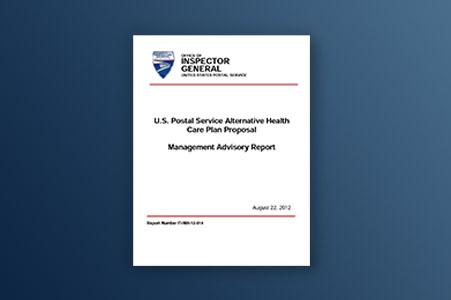 We reviewed the Postal Service's plans for developing its own health care plan that would integrate with Medicare, and we found the proposed savings generally reasonable. We also encouraged the Postal Service to clearly communicate with participants and improve its data access.
Outcome: In the PSRA, Congress adopted a form of Medicare integration that would keep the Postal Service's health care within the federal health care program.
U.S. Postal Service Alternative Health Care Plan Proposal
---
Pension Assumptions (2010, 2012, 2013)
Growing out of concerns about the Postal Service's then existing Federal Employees Retirement System (FERS) surplus compared to the rest of the federal government, we determined the cause of the surplus was that Postal Service employees had different salary and demographic characteristics than other federal workers. Our 2013 reports found using postal-specific assumptions would be more accurate and align better with future payments and result in a $9.5 billion reduction in the FERS liability and a $1.3 billion reduction in the CSRS liability.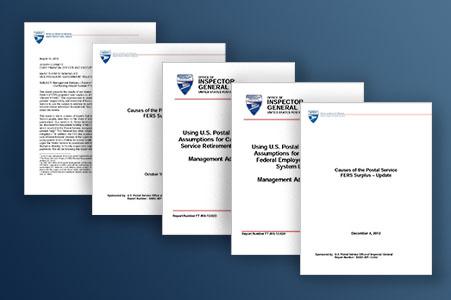 Outcome: OPM adopted Postal Service-specific demographic assumptions for FERS in October 2017 and also changed them for CSRS. In addition, OPM acknowledged separate salary assumptions could be used if needed. As a result, there are now separate Postal Service contribution rates for FERS.
Federal Employees Retirement System FERS Overfunding
Causes of the Postal Service FERS Surplus
Using U.S. Postal Service-Specific Assumptions for Calculating the Civil Service Retirement System Liability
Using U.S. Postal Service-Specific Assumptions for Calculating the Federal Employees Retirement System Liability
Causes of the Postal Service FERS Surplus - Update
---
Investing Retirement Assets (2017, 2018, 2019, 2023)
We issued a white paper in 2017 that examined investing the Postal Service's pension and retiree health assets in six diversified asset portfolios instead of in special-issue Treasury bonds as required now. The median performance level of the diversified portfolios would be much better than the current strategy. FERS and CSRS would be fully funded in 20 years under each portfolio assuming full contributions, and retiree health would be fully funded under four portfolios. None would be fully funded under the current investment strategy.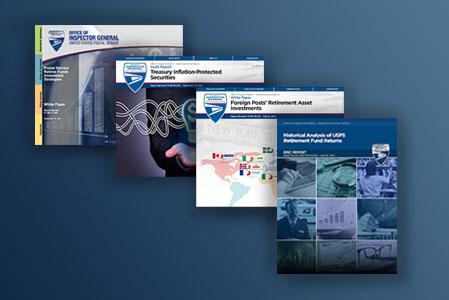 Later work explored how investing in Treasury Inflation-Protected Securities (TIPS) could benefit the Postal Service and how posts in other countries also diversified their pension assets. Most recently, at the request of the Board of Governors, we estimated that had the Postal Service been allowed to invest in a simple portfolio of 60% stocks/40% bonds starting in 1972, it would now have $1.2 trillion in assets rather than $298 billion.
Outcome: Legislation has been proposed previously, but no action has been taken.
Postal Service Retiree Funds Investment Strategies
Treasury Inflation-Protected Securities
Foreign Posts' Retirement Asset Investments
Historical Analysis of USPS Retirement Fund Returns
---
Other Topics (2010, 2011, 2012)
We also did work benchmarking the Postal Service's funding levels to other organizations to show that the Postal Service is comparatively well funded. In addition, we explored the idea that the Postal Service's real estate assets could be used to ensure retiree health benefits were funded if the Postal Service became insolvent.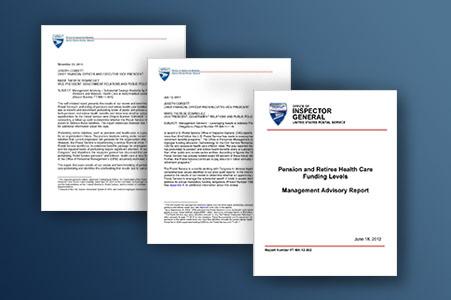 Outcome: The PSRA contains a provision that if the Postal Service permanently ceases operations, money from the sale of USPS real property must first be used to pay any outstanding employee salaries and expenses and then the rest deposited into the Postal Service Retiree Health Benefits Fund.
Substantial Savings Available by Prefunding Pensions and Retirees- Health Care at Benchmarked Levels
Leveraging Assets to Address Financial Obligations
Pension and Retiree Health Care Funding Levels
---
Summary Reports (2010, 2015, 2017, 2020)
Finally, the OIG prepared several summary reports from 2010 through 2020, which extended and updated previous work about the Postal Service's retirement liabilities. An issue raised in the 2020 report is whether the current assumptions about mortality improvement used in the retiree health liability estimates are too high.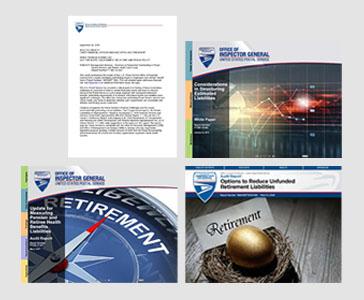 Outcome: Postal mortality improvement assumptions have not been changed since the report was issued.
Summary of Substantial Overfunding in Postal Service Pension and Retiree Health Care Funds
Considerations in Structuring Estimated Liabilities
Update for Measuring Pension and Retiree Health Benefits Liabilities