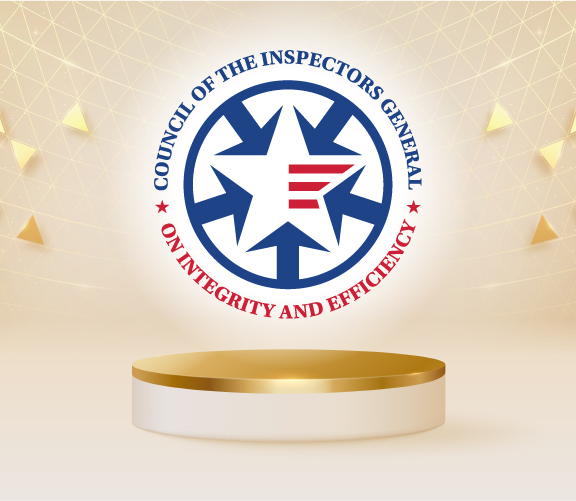 A Round of Applause, and a Time to Honor
Date: 11/13/23 | Category: OIG
Every year, the Council of the Inspectors General on Integrity and Efficiency (or as it is known, CIGIE) holds its annual awards ceremony, spotlighting extraordinary achievements among the 74 federal Offices of Inspectors General.
This year we achieved a noteworthy level of recognition. Our employees took home six different awards across a variety of categories. Not to toot our own horn too much, but we wanted to share our winners with you:
Compounding Solutions Insurance Fraud Investigation
With our interagency partners, we uncovered a pharmacy and related entities that defrauded health insurance providers and the federal workers' compensation program by paying doctors kickbacks to prescribe expensive compounded medications. As a result of the investigation, the pharmacy and co-conspirators were ordered to pay more than $33 million.
Postal Provider Fraud Investigation
One of our agents identified a subcontractor that defrauded the Postal Service through a weakness in the facilities services contract. The investigation resulted in a direct financial impact of over $5 million.
Change of Address and Movers Guide Applications Audit
The work of our audit team led the Postal Service to implement new controls to verify requests, reducing the likelihood of change-of-address fraud.
Postal Service's Fleet Card Program
This cross-departmental effort between our auditors and investigators focused on how effectively the Postal Service prevented fraud, waste, and abuse involving the credit cards employees use to pay for fuel. The team identified $427.7 million of unsupported and improper transactions in the program, as well as potentially fraudulent card users.
Scans Away from the Delivery Location Power BI Tool
In another cross-departmental success, our auditors and data specialists built an interactive tool identifying package delivery scans that take place away from the delivery address. This has become a valuable tool for identifying problem areas for future audits.
Proactive Analytics for Investigations into Pandemic Aid Fraud
Working with the Pandemic Response Accountability Committee, OIG agents and data scientists created a dashboard that made searching records easier and helped investigators identify hundreds of pandemic relief fraud cases. Overall, the OIG's investigations have resulted in more than $3.8 million in criminal and administrative impacts and increased the efficiency of agents working these cases.
You can find out more about these and other awards from the November 7 ceremony here.
---
Postscript: Honoring Those Who Served
On Saturday, our nation celebrated Veterans Day. We'd like to take the opportunity to salute the more than 19 million men and women who have served our country. In particular, we want to recognize the veterans at the U.S. Postal Service and among our colleagues here at the OIG. The Postal Service has historically been one of the nation's largest employers of veterans, with USPS and OIG employing more than 60,000 people who have served in the military. Thank you for your service.