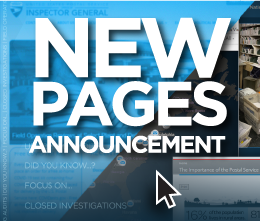 Bringing Our Work to You
Date: 05/23/22 | Category: OIG
The most important goal of our office is to do excellent work that promotes efficiency and effectiveness and ensures integrity at the Postal Service. That is only the first step though. Good work also needs to be easily available to the people who use it. We want to make it simple for you, and all our stakeholders, to find the information you need.
We have added five new pages to improve the accessibility of our work and keep you informed:
To learn more, check out our New Pages Announcement. It includes a video by Inspector General Tammy Whitcomb describing each page.
Let us know what you think of these new pages and how they fit your needs. Which will you use most? What else can we do to make it easier for you to access and use our work?