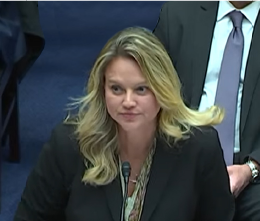 Inspector General Tammy Whitcomb Hull Testifies on OIG Work
Date: 11/21/22 | Category: Delivery & Collection
It's not uncommon for Congress to ask for our testimony on matters affecting the U.S. Postal Service. In fact, just last Wednesday, November 16, Inspector General Tammy Whitcomb Hull appeared before the House Subcommittee on Government Operations for a timely hearing entitled, "The Holiday Rush: Is the Postal Service Ready?"
The first of five witnesses to testify, IG Hull briefed the subcommittee on our recent audit report, Fiscal Year 2023 Peak Season Preparedness — our annual review of the Postal Service's readiness for the upcoming peak season (November through January). She said that we had found the Postal Service has a reasonable plan in place to handle the increased volume, and we therefore didn't make any recommendations. Although we observed that USPS may not be able to implement one initiative in time, contingency plans are ready if needed.
Subcommittee members raised concerns about hiring/retention of employees and the need for temporary employees during peak season. IG Hull and other witnesses stated that the Postal Service seemed ready and that the workforce would get things done.
Other topics also arose, such as issues surrounding Election Mail and the rise in mail theft. IG Hull described our recent election work and informed the subcommittee that we are currently wrapping up our review of 2022 mid-term Election Mail performance, which we expect to release in early 2023.
She also explained that one reason for increased mail theft has been the Postal Service's poor management controls over arrow keys –– used by carriers to open collection boxes, parcel lockers, and cluster box units — which have been increasingly stolen. In some cases, she said, organized crime has been involved in mail theft.
And in response to questions about the Postal Service's 10-year plan, Delivering for America, IG Hull said we're paying close attention to how USPS implements it. "We also look at the financial impacts of the 10-year plan and likely we'll be looking at volume impacts as well," she added.