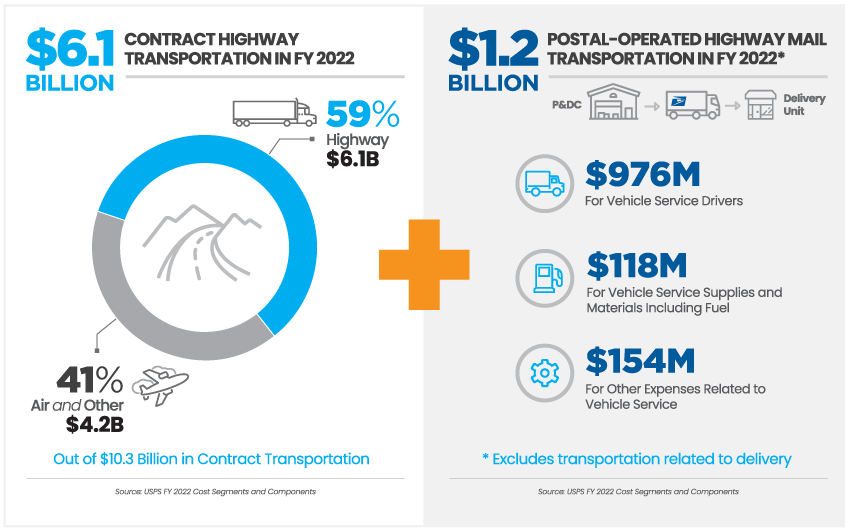 Highway transportation is the main method the Postal Service uses to move mail between processing facilities and from processing facilities to delivery units. Contract highway transportation accounted for $6.1 billion in costs in fiscal year (FY) 2022, 59 percent of total purchased transportation costs. In addition, the Postal Service spent $1.2 billion on labor, supplies, and other costs for its own vehicle service drivers who typically transport mail between processing plants and delivery units or other local facilities. The Postal Service has proposed redesigning and optimizing its highway transportation network while shifting more mail to highway transportation in its Delivering for America plan.
Contract highway transportation costs have increased nearly 50 percent in the past five years. Some of these increases are due to higher prices for purchasing transportation, such as higher fuel prices. The shift from mail to packages has also had an effect. In a 2019 report, we found that these two factors explained 61 percent of the change in overall transportation cost between 2008 and 2017.
OIG work on highway transportation has found issues with extra trips, late trips, and cancelled trips. Extra transportation was often used to mitigate delays elsewhere in the network. The network was not optimized so transportation schedules and processing schedules were consistently followed and aligned. This often resulted in low utilization of trailers, because mail was not cleared and ready prior to the truck's departure or the Postal Service needed to call an extra trip. In some cases, delayed mail could result in the Postal Service having to compensate transportation contractors.
Trailer Utilization During Site Observations for June 2020 Audit
Recordkeeping issues also resulted in additional costs or errors. The Postal Service did not always ensure that trip schedules were changed rather than continually adding or cancelling trips on an ad hoc basis. When changes were made, contract payments were not always adjusted appropriately resulting in incorrect payments. Occasionally, inaccurately entered schedules also led to extra costs. Trips that were added "as needed" rather than scheduled were particularly vulnerable to issues with payment accuracy and timeliness. The Postal Service also did not always take action for very late trips caused by suppliers.
Management oversight of transportation operations at plants was not always sufficient. Fewer managers and supervisors were working at the times when most highway transportation trips arrived and departed. In 2020, we reported problems in two programs related to highway transportation. The Postal Service did not effectively manage its leased trailers to ensure that trailers were not idle and that the data used to track them were accurate. More oversight was also needed for the GPS program for highway contract routes.
Postal Vehicle Driver Shortage
One issue that has caused problems, particularly during the pandemic, is the availability of truck drivers. A shortage of more than 1,000 Postal Vehicle Service drivers has led to increased overtime, and problems finding truck drivers have raised highway contract route (HCR) costs as well. We examined some strategies for attracting and retaining truck drivers including recruiting and training existing employees to become drivers, making the driver experience at facilities pleasant, and ensuring employees treat drivers with respect.  
The Postal Service is just beginning the process of reconfiguring its highway transportation network and redesigning its processing and delivery networks as part of the Delivering for America plan. The OIG will continue to monitor the efficiency of highway transportation operations as the Postal Service implements these changes.