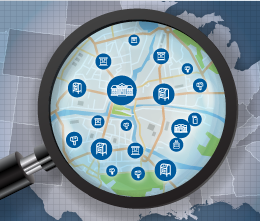 Trends to Follow
Date: 05/09/22 | Category: Delivery & Collection
Trends of all kinds are just about everywhere. Some, however, are easier to spot than others. For instance, most people are aware when, say, real estate prices are trending up or down. But what about trends in U.S. Postal Service mail delivery points? Or USPS service performance in different demographic areas? Those can have an impact on almost anyone who receives mail in the United States.
You can see that point demonstrated in two white papers we recently issued — Trends in New Delivery Points and Demographic Trends in Mail Access Changes and Service, 2016-2020. In the first, we analyzed Postal Service delivery point data for fiscal years 2011 through 2021. The USPS delivery network consists of 163.1 million possible addresses, with more addresses — or delivery points — added every day, and we found that centralized delivery points — mainly cluster box units — increased by 23 percent in those ten years. They are now the fastest growing delivery points. The Postal Service promotes using centralized mailboxes at new locations because delivery to them is less costly than to individual residences, but the changing mix of letters and packages may erode cost savings.
In the second paper, we assessed changes in the geographic distribution of collection points and retail sites. We examined the extent to which these changes display patterns that may have disproportionately affected populations in locations with specific racial, ethnic, and income characteristics. We also identified demographic trends in service performance scores and the volume of negative customer feedback across the United States. Among other things, we found that ZIP Codes with a high proportion of white residents or lower-income residents experienced, on average, better service performance than ZIP Codes with other race and income demographics; in ZIP Codes with more Hispanic residents, service performance was lower, on average.
In both papers, we emphasized how important it is for the Postal Service not only to be aware of trends like these, but also to pay attention to the availability and quality of data that can reveal trends critical to mission success.