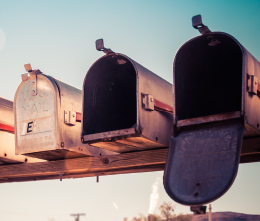 Tracking Delivery Failures
Date: 01/16/23 | Category: Delivery & Collection
When you run a large operation or business, it's just as important to know what isn't getting done as well as what is. This very much applies to the U.S. Postal Service regarding its more than 233,000 delivery routes across the country.
The Postal Service is charged with delivering mail to every address on those routes six days a week. In fiscal year 2022, total volume of delivered mail was more than 127 billion individual pieces — letters, packages, periodicals, and more.
Sometimes, however, a route goes undelivered or partially delivered. On an undelivered route, no homes or businesses receive their regular daily delivery; on a partially delivered route, only some customers experience no delivery. Various reasons can be the cause — severe weather, for instance, or unavailability of carriers.
We recently looked at the Postal Service's management of undelivered and partially delivered routes and found the agency has tools that identify delayed mail on routes, but the tools don't identify the number of undelivered and partially delivered routes nationally. As we note in our recent audit report, one tool estimates potential route and delivery point failures but can't identify undelivered routes.
We did, however, find opportunities for USPS to leverage existing tools and technologies to identify the actual number of undelivered and partially delivered routes. For example, the Postal Service could integrate delivery operations data with Informed Delivery. Also, data on delayed mail and undelivered and partially delivered routes could be used to notify customers of delays and service outages in near real-time. Notification of service interruptions is important to provide world-class, universal mail service.
Are there other areas where the Postal Service needs more management tools? Let us know in the comments below.