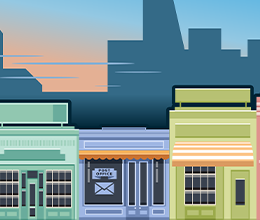 Small Business: Big Business for the Postal Service
Date: 10/24/22 | Category: Products & Services
Increasingly, online shoppers are demanding faster shipping. Maybe you're one of them. If so, then you'd probably like all e-tailers to oblige, regardless of size. But for small businesses to compete with larger competitors, they need help with quick and efficient logistics and fulfillment. That's good news for the U.S. Postal Service.
Already an important segment of the Postal Service's customer base, small businesses comprise an overwhelming majority of all businesses in the U.S., and their numbers have been growing, especially since the onset of the COVID-19 pandemic.
With post offices conveniently located in every community in the country, offering a bevy of affordable mailing and shipping products and services, the Postal Service is uniquely positioned to be the choice of small businesses. USPS effectively recognizes this opportunity to generate more revenue, noting in its Delivering for America 10-year plan the need to improve how its retail network serves small businesses.
We recently assessed the current state of the retail network services for small businesses. We also offered some ideas for new retail products and services. For instance, providing small business consulting and enhanced self-service options at post offices could make the retail network more valuable to small business customers. The agency could also standardize its small businesses marketing across the retail network. These ideas and more are detailed in our new white paper, The Value of the Postal Service's Retail Network for Small Businesses.
What do you think the Postal Service could do or offer that would help small businesses serve their customers better?