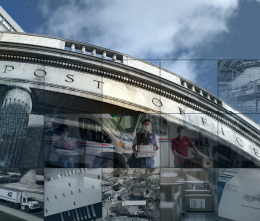 The Postal Service in the 21st Century: A Recent History
Date: 01/23/23 | Category: Ideas Worth Exploring
When we think of the nation's postal history, we often think of a few well-known images: rural post offices filled with newspapers from across the country, stagecoaches carrying both mail and people, and the first air mail flights. But as memorable as these stories are, U.S. postal history is more than just a few events way back when. The recent past is also part of the story.
The OIG just published a white paper that examines the past two decades of the Postal Service's history in order to provide a high-level overview of the organization's operational environment. It covers the stories that made headlines across the nation such as the anthrax-letters attack in 2001, the Postal Service's efforts to realign its retail network, and its role during the pandemic and recent elections.
The paper also describes how the Postal Service's financial condition worsened after mail volume peaked right before the Great Recession and details the growing importance of ecommerce. Postal Service innovations get a mention, too, including the introduction of the Intelligent Mail Barcode (IMb), Informed Visibility, and Informed Delivery to give mailers, recipients, and the Postal Service itself better information on the flow of mail.
Did we miss any important events or developments? What do you think are the most important postal stories of the last 22 years? Read the paper and let us know in the comments below.