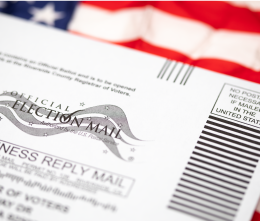 Mid-Terms and the Mail
Date: 10/10/22 | Category: Mail Processing & Transportation
Given the significant role mailed ballots played during the 2020 general election — about half of all votes traveled through the U.S. Postal Service network — and the increased attention focused on voting by mail, we assessed the Postal Service's readiness for the upcoming November mid-term elections.
Of course, the main driver of voting by mail two years ago was the COVID-19 pandemic, which has subsided from its peak, but mailed ballots have already figured notably in 2022 primaries. In fact, the Postal Service processed nearly 10 million more Election Mail pieces from April 1 through June 30 of this year than the same period for the 2020 primaries. Voting by mail will likely be significant again this fall.
The good news is we found that the Postal Service is generally ready for timely processing of mid-term Election Mail. For instance, the Postal Service established the Election and Government Mail Services Organization, a permanent entity focused solely on dealing with election matters. The agency also prioritized timely processing and delivery of Election Mail during the primaries, and it implemented recommendations we made in prior audit work.
Still, in a few cases, we found the Postal Service wasn't compliant with its own Election Mail policies. Three of six mail processing and distribution centers and one of 10 delivery units we reviewed failed to complete in full the required checklists, certifications, and postmarking. And we found USPS was able to measure service performance for only 83.3 percent of identifiable ballots. While that represents progress, we noted it's important that the agency continues to identify root causes of ballots excluded from measurement. We made three recommendations, and management generally agreed with all.
We plan to continue our election mail work during the mid-term elections. Currently, we are undertaking an audit that will visit 500 facilities before the election. You can keep track of all our work on these issues on our Election and Political Mail page.
Are you planning to vote by mail in the mid-term elections?