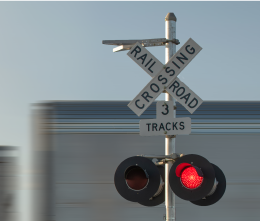 Mail on Rail
Date: 09/26/22 | Category: Mail Processing & Transportation
The thought of mail traveling by rail conjures up a picture of railway mail clerks sorting letters as a train rolls along into the night. Traditional railway mail service ended long ago, fading away as the use of passenger rail diminished and new methods of sorting mail by machine arose. The last run of a Railway Post Office was in 1977.
Today, the Postal Service mostly contracts with truck carriers for long-haul surface transportation, although it still uses rail occasionally. Intermodal service, which switches containers between various transportation methods such as trucks and trains, can be less expensive than truck transportation alone. Transportation involving rail, however, requires more active management to ensure that the mail arrives before scheduled train departure times.
Earlier this month, the Office of Inspector General issued an audit of a pilot program that placed mail on rail between several cities. The Postal Service started the pilot in June 2020 to save on surface transportation costs while still meeting service standards.
The audit found the contractors in the pilot didn't consistently meet performance goals. Mail was frequently late, and management didn't always monitor performance and report late trips. Management at one postal facility stopped using rail because it was regularly late but continued to pay for it, resulting in an annual cost of almost $460,000.
We made four recommendations to improve processes, training, and monitoring of intermodal service. Management agreed with three of the recommendations and partially agreed with the fourth.
What do you think about using rail to transport mail? What other types of transportation should the Postal Service use?