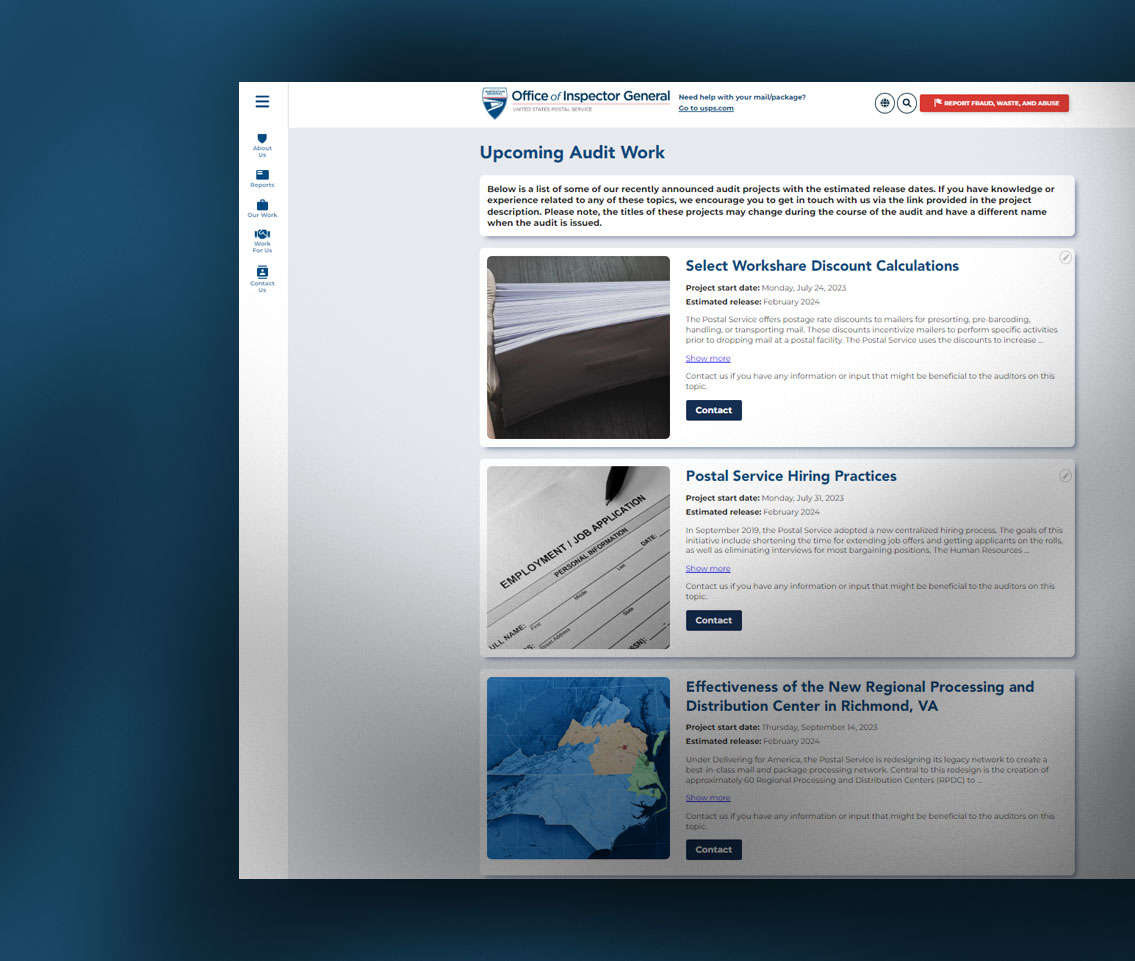 Keeping Tabs on the OIG's Audit Work
Date: 10/16/23 | Category: OIG
Do you ever wonder what the OIG's auditors are working on? Or do you ever read one of our audits and think, "I wish the auditors had known what I know"?
Well, we have an answer for you. Check out our list of Upcoming Audit Work. Except for quick response field audits, we post most of our upcoming audit projects to the list. (You can find the list by using the three parallel lines symbol or "hamburger" in the upper-left corner of our website. Click it to open the full menu and then look for the first item under the Reports section of the menu.)
The audit projects go up soon after we announce to the Postal Service that we're going to start the major work phase of the audit — the fieldwork phase. That's the factfinding stage when we typically gather the information we need to reach our conclusions.
The Upcoming Audit Work page also gives an estimated date when we expect to release each audit to the public. (Keep in mind the dates can change depending on how our work progresses and what we find.)
Even better, our auditors want your input at the beginning of their projects to help them focus on the right things. Do you have insights on the topic that's being reviewed? Or do you have first-hand knowledge of an area that's being audited? Just use the "Contact Us" button to let us know your thoughts. This comment button is usually available for 45 days after the project is posted, although the project listing remains until the audit is issued.
Here are two projects we're gathering feedback on:
The Postal Service's new centralized hiring practices and

The effectiveness of the new Regional Processing and Distribution Center (RPDC) in Richmond, VA.
Do you have thoughts on these projects? Let us know by using the button by each project.
Share your thoughts on the Upcoming Audit Work page in the comments below.
---
Postscript: Are you Interested in the History of the Postal Service?