USPS OIG Investigators Bring a Multi-agency Fraud Case to a Close
Date: 05/24/23 | Category: Contract Fraud
Sometimes, fraud schemes involving Postal Service contractors aren't open and shut cases. And sometimes, they come from unexpected places and require extensive collaboration with other law enforcement agencies to bring those perpetrating crimes to justice.
Image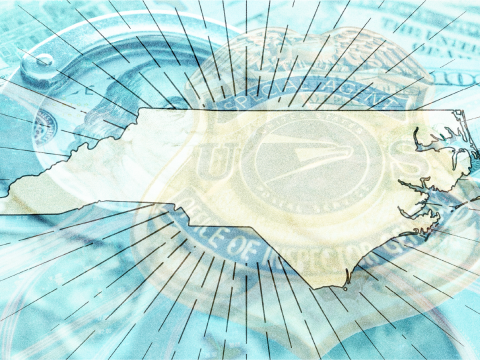 Our Office of Investigations recently closed a case that began in 2016, but the investigation didn't begin with our office. It originated with the Department of Justice's (DOJ) Antitrust Division investigating a bid rigging scheme involving three companies in Statesville, North Carolina. The companies were allegedly working together to manipulate the winner of a bidding process for a contract with the North Carolina Department of Transportation (DOT). As a result of bid rigging, the purchaser, which depends on competition between the bidders to generate the lowest competitive price, receives instead a "lowest bid" that is higher than the competitive market would provide.
The USPS OIG was requested to assist the DOJ on the investigation. A joint review revealed the Postal Service had procured products from one of the three companies on at least two contracts, prompting our agency to open our own investigation. Over the ensuing months, our agents worked through the case.
In 2021, the corporation in question pleaded guilty to violating the Sherman Antitrust Act and conspiring to commit mail and wire fraud. It was fined $7 million and ordered to pay more than $1.5 million in restitution to the North Carolina DOT. The court also ordered restitution for the Postal Service in the amount of $1.75M of the $7M criminal fine. But it wasn't over yet.
The company's former manager decided to proceed to trial. In February last year, after a seven-day jury trial in the U.S. District Court in New Bern, North Carolina, he was found guilty of all six counts of the indictment. Seven months later, the former manager was sentenced to two years' imprisonment on each count of the indictment to be served concurrently and was fined over $100,000, of which 25 percent will be surrendered to the Postal Service.
If you suspect or know of fraud or other crimes involving Postal Service contractors or employees, please report it to our Hotline.
---
For further reading:
Department of Justice (via uspsoig.gov), Former Engineering Executive Sentenced for Rigging Bids and Defrauding North Carolina Department of Transportation