Disrupting Interstate Drug Trafficking
Date: 04/26/23 | Category: Narcotics
The U.S. Postal Service prides itself on an exclusive network that reaches every household in America. Unfortunately, that is precisely what some criminal groups look to exploit to illegally traffic narcotics across state lines. And while the incidence of postal employee collusion is small, it does happen and typically with dire consequences for those involved.
In a recent multi-agency investigation, OIG agents responded to a source within USPS about an Indiana postal employee who was allegedly conspiring with an external drug trafficking organization. A months-long investigation found the employee indeed facilitated, transported, and delivered narcotics parcels via the U.S. Mail.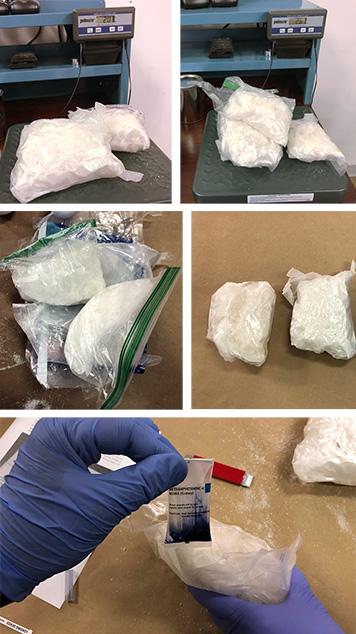 Through a series of operations, OIG agents along with investigators from the Postal Inspection Service, the DEA, and local and state police tracked down and intercepted several narcotics parcels. One of those parcels contained 4.6 pounds of methamphetamine with an estimated street value of $125,000. 
The employee admitted to using her official position with USPS to provide a member of the trafficking ring with the access and means to move the drugs into and through Indiana. She resigned from the Postal Service and, along with four other suspects, was later arrested.
The five were indicted in the Southern District of Indiana and charged with six crimes, including conspiracy to possess with the intent to distribute controlled substances, unlawful possession of postal keys, and attempted distribution of meth. By February 2023, all five were sentenced to a combined total of 65 years in federal prison. The postal employee pleaded guilty to one charge and was sentenced to 46 months in prison and three years of supervised release.
Our investigative work and collaboration with law enforcement agencies are critical in safeguarding America's trust in the Postal Service. We continue encouraging USPS employees and the public to report any potential criminal activity involving a postal employee or contractor to our Hotline.
---
For further reading: