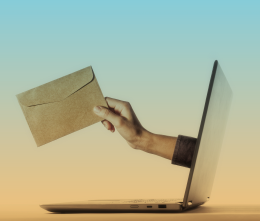 Bringing Mail to Digital Marketing
Date: 06/21/21 | Category: Products & Services
In modern marketing, companies often draw from a chest of marketing tools to target the right customer at the right time. They mix and match a multitude of advertising channels to create an efficient campaign when every marketing dollar counts against the bottom line.
The Postal Service introduced two tools, Informed Delivery (ID) and Informed Visibility (IV), which provide added value to direct mail advertising. While Informed Delivery was designed to allow subscribers a preview of mail about to hit their mailboxes, it also allows marketers to augment their mailing with Informed Delivery campaigns. These campaigns allow marketers to add enhancements to the preview email. Informed Visibility, on the other hand, lets commercial mailers track their mailings in the postal network and provides an expected arrival date. It also gives information marketers need to coordinate mailings with other marketing channels.
In our new white paper, Marketers' Perceptions of Informed Delivery and Informed Visibility, OIG researchers interviewed marketing mailers and intermediaries to get their opinions of the two programs as well as how to improve them.
On one hand, the marketers had a positive view of Informed Delivery, noting it had a positive effect on brand awareness, though the effect on sales was limited. While marketers were highly aware of Informed Visibility as a mail-tracking tool, there was limited knowledge or usage of IV in marketing efforts. The paper found that the Postal Service could help broaden the programs by educating advertisers on the greater capabilities of ID and IV.
Have you used Informed Delivery or Informed Delivery as a part of a marketing campaign? What was your experience?