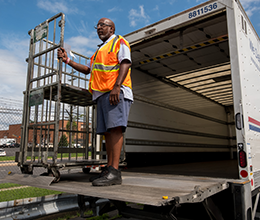 A Tuck that Nips Safety and Efficiency?
Date: 10/26/20 | Category: Mail Processing & Transportation
Three years ago, the U.S. Postal Service began replacing 7-and 11-ton cargo vans and adding new lift gates — equipment on the rear that helps load/unload containers of mail. Transportation managers could choose between a tuck-under lift gate or a rail lift gate. The former tucks beneath the cargo van when not in use while the latter folds up against the back of the van. Most managers favored the tuck-under gate because it could stow itself completely out of the way, thus allowing quicker access to the back of the van than rail gates, which must be lowered. The Postal Service thus bought 1,167 tuck-under gates and 446 rail gates for an estimated total cost of $6.5 million.
What exactly did it get, though?
Possibly less efficiency and safety, according to our recent audit report. The rail lift gates worked well enough, our auditors found, but the tuck-under gates were smaller than previous lift gates and therefore required more time to move the same amount of mail. Then there were the safety issues we identified, such as the lack of protective rails on the side of the tuck-under lift gate to prevent mail containers from rolling off.
We further found that the Postal Service doesn't have a national training program for operating the new lift gates. USPS did train employees on the new lift gates at deployment; however, the training wasn't standardized. The tuck-under gates led to three Occupational Safety and Health Administration (OSHA) complaints, two grievances, and 55 safety-hazard reports.
Are you familiar with the tuck-under or rail lift gates? What's been your experience with them?