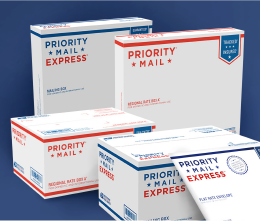 Thinking Inside and Outside the Box
Date: 11/16/20 | Category: Products & Services
While many of you may have experienced going to your local post office and picking up some free packaging — a box, envelope, or tube, maybe — you may not know that you can order the same supplies and have them delivered to your front door.
Through its Expedited Packaging Supplies (EPS) Program, the U.S. Postal Service provides customers free boxes and other containers for use with its domestic and international Priority Mail and Priority Mail Express services. According to the Postal Service, free packaging is a unique selling tool that differentiates it from its competitors. Not only does it help attract new customers, it also helps grow business. The EPS program doesn't just offer what you find in the post office; there are over 50 standard items available. And for its highest-volume customers, the Postal Service provides specialized boxes and envelopes, and even customized packages to fit the specific needs of the customer.
In our recently released audit, Expedited Packaging Supplies Program Costs, OIG auditors set out to examine the EPS program, assessing whether the Postal Service is effectively achieving objectives, controlling costs, and accurately attributing costs to products.
We found several problems with the EPS Program, such as customers receiving the upper-level specialized and customized packaging between fiscal years 2015 and 2019 without spending enough to qualify. In addition, we found insufficient controls to track usage of EPS material sent out. And lastly there was not enough monitoring of data from online and post office EPS orders as well as from its packaging supplier. Our report made six recommendations to improve EPS Program operations and controls. The Postal Service agreed with three of the recommendations and disagreed with the other three but provided alternative solutions.
Do you regularly use Postal Service supplies for your packages? Have you ever had them delivered to your home? Comment below!