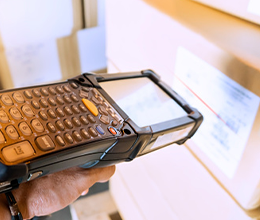 Scanning Issues Persist
Date: 03/09/20 | Category: Delivery & Collection
Package visibility is important to consumers, as many ecommerce surveys indicate. "Real-time tracking" often tops lists of consumers' preferred features.
So, it's critical that U.S. Postal Service scanning information be accurate. Yet we continue to find shortcomings in this area. Our recent audit work found employees were sometimes improperly scanning packages at the post office rather than at the point of delivery and not following scanning policies. We flagged this activity in a recent Management Alert.
Carriers are supposed to scan a package at the delivery location after either delivering or attempting to deliver the package. This scan "stops the clock," indicating USPS has met its delivery commitment. Anyone tracking a package would see that delivery was made or attempted. Two years ago, our comprehensive audit on USPS's package delivery scanning process in city delivery operations found carriers were sometimes making improper "stop-the-clock" scans at a location other than the designated delivery location (house, business, apartment building).
If a carrier makes a "stop the clock" scan at a location other than the delivery point – before delivery is even attempted – a customer would see package delivery made or attempted when none has actually occurred.
Last year, we reviewed package scanning procedures at 25 delivery units and found USPS employees were not always following package scanning procedures at 21 of the 25 units. Specifically, 38 percent of the more than 1,100 packages that were selected at these units and that were in the facility before the carriers arrived for the day had been improperly scanned. For example, 191 packages had been scanned as delivered but were still at the unit, and 113 packages that were not delivered had no scan indicating why they weren't.
The purpose of our Management Alert is to bring these issues to the attention of the Postal Service so immediate corrective action can be taken. We recommended USPS enhance ongoing strategies to improve scanning accuracy and enforce compliance. Prior recommendations focused on reinforcing adherence to package scanning guidelines and policies, as well as updating the Scan Data Integrity report to track improper scans performed at delivery units. We also recommended USPS develop a process that would allow carriers to scan multiple packages to a single delivery address.
Management was receptive to our findings and is implementing corrective action on all the recommendations.