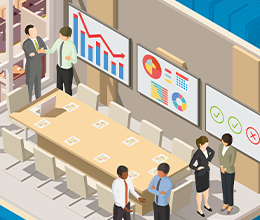 The Power of Potential
Date: 09/27/21 | Category: Mail Processing & Transportation
In a world increasingly driven by digitized information, the ability to harness data for business objectives becomes almost a requirement to keep operations moving efficiently. That's a big reason why the U.S. Postal Service started deploying the Informed Visibility (IV) system six years ago. By centralizing information from numerous USPS data systems and a variety of mail processing equipment, IV provides Postal Service management with near-real-time visibility into the movement of mail through the postal network.
As a result, managers at processing facilities know when mail will arrive, allowing more efficient scheduling of employees and machines. In our latest white paper, we confirmed that Informed Visibility has led to a decrease in processing workhours. Managers also told us about opportunities to improve the use of IV and achieve greater operational efficiencies.
However, we found the Postal Service doesn't periodically request feedback from IV users, such as plant managers, in the field. Without that information, the Postal Service may be unaware of potentially needed improvements that could yield even more benefits. That's why we recommended USPS should periodically solicit users for feedback and evaluate it for possible improvements to the IV system.
If you're a postal worker familiar with IV, what's been your experience with it? What improvements do you think should be considered?