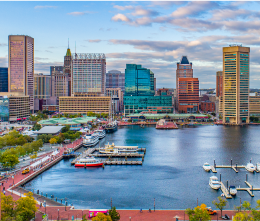 Mail Problems in Charm City
Date: 11/15/21 | Category: Delivery & Collection
Our audits of Postal Service operations span different geographies, from national analysis to regional to local issues.  While most of our audits are self-initiated, many come from stakeholders including Congress.  
In May 2021, the OIG received requests from Maryland Congressmen C.A. Dutch Ruppersberger and Kweisi Mfume to review mail delivery and customer service operations at select units in the Baltimore area. Constituents had been contacting the two congressional offices with complaints about mail delivery and other customer service issues. In response, we did an initial analysis of service performance and customer complaint data. We found not only had the Baltimore region not met the service targets for four postal products over a 92-week period, but that it also had higher than normal missing mail and package inquiries.
As discussed in our newly released report, OIG auditors set out to evaluate mail delivery and customer service operations at nine Baltimore postal facilities. During our site visits, we observed large amounts of delayed mail, some dating back to December 2020, but very few delayed packages.
We found three main issues that prompted the customer complaints — delayed mail, inaccurate reporting of mail conditions, and improper scanning.  One contributing factor was low employee availability. While there are some factors outside of the U.S. Postal Service's control, we found postal management could do more to hire and retain employees. 
Our report made seven recommendations to improve staffing, mail condition reporting, and package scanning. Postal Service management agreed with all our findings and recommendations and plans on implementing solutions by the end of November.
Service performance will continue to be an important focus of our work – both across the country and in specific geographic regions. We will soon roll out a new audit team that will issue quick-response reports in selected geographic areas that will allow the Postal Service to fix problems promptly.