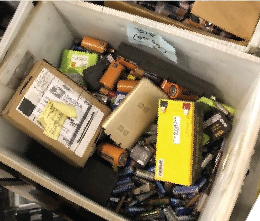 Lost and Found at the Postal Service
Date: 08/31/20 | Category: Delivery & Collection
Ever wonder where parcels go if the labels fall off? Or what happens if a package is undeliverable?
The U.S. Postal Service's Mail Recovery Center (MRC) serves as the "lost and found" center for the Postal Service, receiving items determined to be undeliverable for a number of reasons. In Fiscal Year (FY) 2019, the MRC received 67 million items from post offices and other facilities around the country. While that's a large number, it's a small fraction of a percent of the 142 billion mailpieces the Postal Service delivered that same year.
Once items are received, the MRC determines what to do with them. If possible, they are returned to the sender, and if not, they are inventoried, held until claimed, and eventually sold, or otherwise disposed of.
OIG auditors evaluated the effectiveness of MRC operations and identified opportunities for improvement. The report, U.S. Postal Service Mail Recovery Center, found that operations weren't always efficient, and items weren't always processed in a timely manner. The report also noted that postal facilities were sending marketing mail and other items that should not be handled by the MRC.
Additionally, the report found that there were problems involving effective disposal of certain items, such as batteries and gift cards. The MRC also must strengthen inventory controls over cash or items being stored.
Have you been waiting for a piece of mail, but believe it might be lost? If so, start off by filing a missing mail search request on the USPS.com Find Missing Mail page.
Have you had items returned from the Mail Recovery Center? Tell us what happened below.