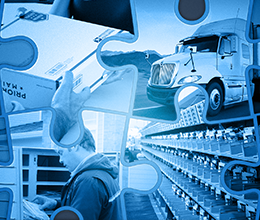 By Land and Air
Date: 08/03/20 | Category: Mail Processing & Transportation
For some businesses, transportation is a simple matter, getting things from point A to point B, or maybe even getting things from point A to points B, C, and D. For the U.S. Postal Service, it's a different level of complexity altogether.
Using both contractors and postal-owned transportation, the Postal Service manages an average daily flow of over 390 million mailpieces throughout its network, transporting to and from 285 processing plants and 35,000 retail locations. All of this transportation comes with a cost. During Fiscal Year (FY) 2019 alone, USPS spent around $8.8 billion on transportation ($5.7 billion on surface transportation and $3.1 billion on air transportation).
In our recent audit, Transportation Network Optimization and Service Performance, our auditors examined the surface and air networks and assessed the opportunities to save money while still meeting service goals. Prior to the COVID-19 pandemic, our auditors visited eight processing plants and four terminal handling services facilities and utilized efficiency and service metrics to understand how the best and worst performing facilities were operating.
Our audit found that the Postal Service spent over $550 million in extra transportation costs to mitigate delays in the network: $410 million from the surface network and $140 million in the air network. These extra costs came largely as a result of extra trips, late trips, and overtime. Many of these costs were associated with misaligned scheduling, insufficient management oversight of day-to-day operations, a shortage of drivers and network managers, and inefficient use of air carriers.
What opportunities do you see for the Postal Service to save money in its transportation network?