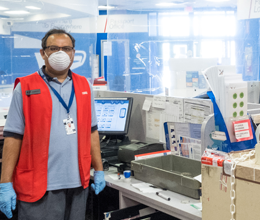 Keeping Postal Workers Safe During the Pandemic
Date: 12/07/20
The pandemic has had a devastating impact on many American businesses, disrupting operations of every type and size. While the U.S. Postal Service has also been adversely affected, it continued to deliver mail and packages throughout the pandemic to every address in the nation, ensuring people receive medication and other important material every day.
But what about the safety of the 641,000 postal workers working out of 31,500 facilities across the United States?
In our recently-released audit, Employee Safety – Postal Service COVID-19 Response, we assessed the USPS response to the novel coronavirus disease (COVID-19) outbreak regarding the safety of its workers and facilities. The Postal Service created a COVID-19 Command Response Team at headquarters, adjusted operations, and procured personal protective equipment and supplies. These quick actions likely saved lives and certainly increased safety. Yet, despite these efforts, as of early November, several thousand postal employees have been infected by the coronavirus and some have died.
While we recognize the challenges the pandemic has presented, we identified three areas where the Postal Service can make improvements to better protect employees: face-covering policy, contact-tracing program, and employee health screenings. For example, we visited 10 facilities — including five mail processing and five retail and delivery facilities — and in four of these facilities, we observed employees not adhering to the local face covering policies.
If you visited a post office lately or are a Postal Service employee, what other safety measures would you suggest?