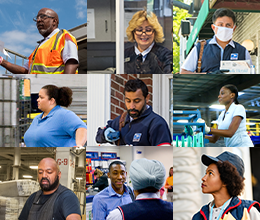 How Does USPS Rate as An Employer?
Date: 10/25/21 | Category: Labor
The pandemic has caused a lot of businesses to struggle with having enough employees available to get the job done, and the Postal Service is no exception. As more and more job vacancies go unfilled, people looking for jobs have more choices about where to work. Which raises the question, how does the Postal Service stack up as an employer?
This question is the subject of a recent white paper. We looked at employee reviews and ratings of the Postal Service on two job-related websites — Glassdoor and Indeed — and reviewed USPS-administered employee surveys and postal data on turnover and retention. We found the overall ratings for the Postal Service as an employer were consistently lower than the ratings for comparable organizations in both the shipping/logistics sector and the federal government. When looking at changes in the overall rating for USPS between fiscal years 2016 and 2021, ratings stayed the same on Glassdoor but fell on Indeed.
We found career employees gave more favorable reviews than non-career employees. This isn't surprising, given non-career employees, who don't receive full benefits, have had a high turnover rate for years. The good news is USPS launched several new initiatives focused on improving the non-career employee experience in the first 90 days of employment.
So, what are the best aspects of working for the Postal Service? Pay and benefits ranked the highest on both Glassdoor and Indeed with 3.7 stars (out of 5). The second-best rated aspects were diversity and inclusion (3.5 stars Glassdoor) and job security and advancement (3.3 stars Indeed).
Have you ever considered working for or already work for the Postal Service? What aspects seem most favorable to you?