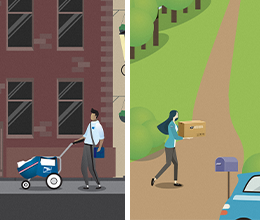 From High-Rise Apartments to Rural Farms: Delivering Packages Across the Nation
Date: 09/28/20 | Category: Delivery & Collection
The U.S. Postal Service we know today looks much different than it did a century ago. Its delivery network — including curbside mailboxes and delivery vehicles — was originally designed to deliver letters.
With the explosive growth of ecommerce over recent years, the Postal Service finds itself focusing more on delivering packages to mailboxes and front doors across the country. The Postal Service delivered about 6 billion packages in 2019, doubling its volume over a decade.
In our newly released white paper, Package Delivery in Rural and Dense Urban Areas, the OIG found that package delivery isn't a one-size-fits-all operation; it varies based on population density. Package delivery to street-level, suburban homes is relatively quick and efficient. In contrast, in dense urban areas or in rural areas it can be more challenging. Dense urban areas often have many apartment buildings, often resulting in mail carriers delivering parcels to individual apartments — a time-consuming process. In rural areas, delivery points are often far apart, and mailboxes may be located far from customers' homes. This means rural carriers may have to deliver letters to the mailbox and then go all the way to a customer's front door to deliver larger packages. Over the course of a route, this is also a time-consuming and costly process.
The OIG highlighted some opportunities to make package delivery in extreme environments more efficient and cost-effective. The Postal Service could consider installing more parcel lockers in certain urban and rural areas, cutting multiple trips to front doors. The Postal Service could also encourage larger curbside mailboxes and better track parcel-related operational data to promote efficiency.
What do you think? What can the Postal Service do to make package delivery more efficient?