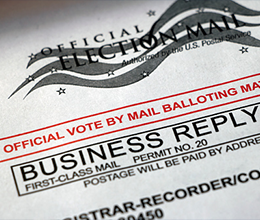 Election 2020
Date: 11/02/20 | Category: Delivery & Collection
While tomorrow is officially Election Day, millions of Americans have already voted through early, in-person voting or voting by mail. And we, the U.S. Postal Service OIG, have taken steps to help ensure ballots are being handled properly by the Postal Service.
Over the past four months, we have issued three reports focused on election mail operations. Overall, we found that while the Postal Service was generally following its procedures for processing and delivering ballots, some areas needed improvement. We also identified concerns surrounding integrating state and local election office processes with Postal Service processes to help ensure the timely delivery of election mail. Additionally, we identified steps USPS should take to improve its handling of international mail, including international election mail.
To better inform the public, a few months ago we created an Election and Political Mail webpage, which lists these reports as well as other resources, including a list of best practices for receiving election mail materials, frequently asked questions, and a link to report suspected election mail fraud.
As states have sent out absentee ballots and voters sent them back over the past month, the OIG has taken the unprecedented step of sending our auditors and investigators to over 1,000 Postal Service facilities — both mail processing plants and delivery units — to ensure USPS employees are following election mail procedures and properly processing election mail. This allows us to provide the Postal Service immediate feedback, which they can use to fix any problems we have identified.
Did you vote in person or by mail for this election? Have you voted by mail in previous elections?