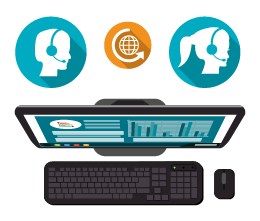 Dialing Up Customer Service at USPS
Date: 10/11/21 | Category: Products & Services
For any business, customer service is important. It improves the brand image, keeps customers loyal, and provides insights into the customer experience. In the past, customer service operations for a major corporation would involve thousands of service agents to handle calls — from routine problems to more complex ones. Technology has changed customer service, allowing automated systems to handle routine inquiries 24 hours a day without requiring an agent.
For its 1-800-ASK-USPS customer care line, the Postal Service employs an Interactive Voice Response (IVR) system to answer calls, automatically handling routine issues such as package tracking, finding post office locations and hours, and submitting hold mail requests. This allows customers to find solutions for certain issues without being put on hold or being referred to agents for complicated problems. In Fiscal Year 2020, the Postal Service's IVR system handled 90 million calls!
Our latest white paper, 1-800-ASK-USPS: The Postal Service's Interactive Voice Response System, examines the effectiveness of the Postal Service's IVR system at handling inquiries. We found that two of the metrics, the containment rate (the percent of calls not transferred to agents) and customer satisfaction, have both increased over the past years. Still, there is room for improvement. A quarter of IVR users who stay on the line at the end of the call to take a survey were very dissatisfied with their IVR experience, which might be worth exploring further.
We also found the Postal Service was counting any call not transferred to an agent as contained. For example, if someone called and hung up in frustration before getting the information they sought, that call would still count as resolved by the IVR system. We recommended the Postal Service track abandoned calls and more accurately track contained calls. This could help them accurately identify customer frustration points with the IVR system.
Have you called 1-800-ASK-USPS recently? What was your experience?