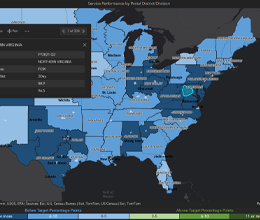 Shedding a Light on USPS Service Performance
Date: 06/14/21 | Category: Delivery & Collection
You probably have heard a lot recently about the pandemic and other issues causing problems with mail delivery, with some people saying it takes weeks for packages and letters to arrive. Maybe you even experienced problems yourself. Maybe you've been getting your mail on time and wondering what all the complaints are about.
Did you ever wish you could get a better understanding of how the Postal Service is doing across the country? Well, now you can. We recently launched a new service performance webpage that includes an interactive map displaying quarterly data on the Postal Service's service performance around the country.
You can filter the data by time period, geography, mail class, or service standard. Want to see on-time performance for presorted First-Class Mail that is supposed to be delivered in two days? You can. Maybe you're interested in focusing on Marketing Mail in New York? You can filter the map to see that also.
We will continue to update this page quarterly as the Postal Service releases new data. The interactive map is not all the website features; it also functions as a one-stop-shop for all the OIG's published and upcoming work on service performance. So, take a look and tell us what you think