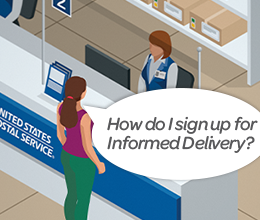 Informed on Informed Delivery
Date: 08/24/20 | Category: Products & Services
Say you run a business – a big one – and you come up with a new product, one you believe can benefit millions of potential customers. When it becomes available, you want to make sure your salespeople can tell customers about it…right?
Three years ago, the U.S. Postal Service rolled out Informed Delivery, a free feature which allows customers to digitally preview their letter mail and package delivery via email notifications, online dashboard, or mobile application. Postal Service Headquarters staff from Corporate Communications and Delivery and Retail Operations provided instructions to employees at USPS retail facilities on how to direct customers to sign up. So how did they do?
Pretty well, as it turned out. As we noted in our recent audit report, retail window employees at 33 of 34 of the randomly selected retail units our auditors visited correctly referred us to the Postal Service's Informed Delivery website when asked about how to sign up. At the one facility where the employee incorrectly responded to our inquiry, local management took immediate corrective actions. Postal Service managers and staff we spoke with at the headquarters, area, district, and local levels attributed these positive results to the quality of communication provided about Informed Delivery.
Have you inquired about Informed Delivery or another USPS product or service at a post office? Did you receive helpful answers? Let us know and comment below!
NOTE: Unfortunately, the OIG cannot help with delayed or overdue stimulus checks. Please address concerns to the Postal Service's Consumer & Industry Contact Office Locator (formerly Consumer Affairs). Thank you.