Image

OIG Agents Help Take Down Ohio Drug Ring
Date: 03/07/2023  Category: Narcotics
Organized crime, especially when it involves drug dealing, poses a serious threat to the mail, as traffickers often deceitfully use the Postal Service whenever they can to ship illegal narcotics to distribution points across the country. And sometimes USPS employees — a small percentage among a workforce that is largely law-abiding — can be recruited to help.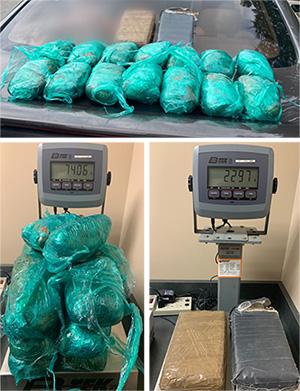 In a recent case, for example, a drug trafficking organization was operating in the Cleveland and Akron, Ohio areas, dealing heroin, methamphetamine (meth), and cocaine. The 13 suspected members included a mail processing clerk who worked at an air mail facility.
OIG agents were part of a strike force involving the DEA and local police in a joint investigation into the organization. Investigators surveilling the clerk saw her pick up a package of suspected narcotics from the leader of the organization. She then put it in her personal vehicle and drove away. Also, the drug trafficking organization was using a Post Office Box to receive illegal narcotics as well.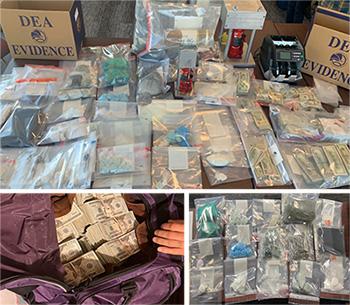 Ohio State Highway Patrol stopped her and discovered a significant amount of narcotics in the vehicle — about 7.4 kilos of meth and 2.2 kilos of pure fentanyl. According to the Drug Enforcement Administration, one kilogram of fentanyl has the potential to kill 500,000 people. 
OIG agents and their strike force partners then executed multiple search and arrest warrants against the trafficking ring, resulting in the seizure of $150,000 in cash, two drug presses, six firearms, cocaine, marijuana, and heroin, as well as more meth and fentanyl.
Federal prosecutors issued a detailed, 25-count indictment against all of the drug conspirators. The clerk pleaded guilty and received a prison sentence of almost five years, followed by three years of probation. The other 12 conspirators were also sentenced.
We continue to work with both federal and local law enforcement agencies to stop not only drug dealing through the mail, but also any crime that harms the Postal Service. If you suspect criminal activity involving a USPS employee or contractor, please report it to our Hotline.